In March 2020, three adventurous young people from Graz fulfilled a dream and launched their travel platform "Schau aufs Land". And how could it be otherwise - the Greimlhof also became part of it.
Arrival is by appointment or reservation in the evening around 5 pm. The Greimlhof site is literally in the middle of the farm. This allows our visitors to experience first-hand how Reinhard visits the bees, how he extracts honey and how the trainees clean the last "mountain" of chanterelles.
Experiences at the organic farm
You hear the ducks quacking, see the cows coming out of the pasture and the flock of hens taking their last sunbath. See Gabriel at the milking parlour and then disappear into the forest as a hunter. The clatter of pots can be heard from the farm kitchen - here the day's harvest is quickly processed. And in passing, Gabriela explains interesting facts about people, animals, the farm and the farming methods behind it all. Soon the sun sets and bathes the valley in a warm red. Peace gradually returns to the farm...
... As soon as dawn breaks, the first quail males call loudly for their females. Of course, the cocks don't need to be told twice and join the wild birds in crowing and squawking. The milking machine runs, the doors of the stables open - a new day begins. Our guests have a leisurely breakfast in the morning sun and finally leave around 1100 hrs.
What does the Greiml organic farm have from Schau aufs Land?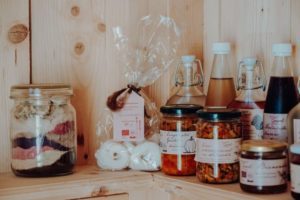 What do we get out of all this? In return, our visitors are invited to buy goodies for dinner and breakfast in our farm shop or to give a small donation for the tour.
And us?
In this way, we feel the holiday season - Gabriela's camping heart beats faster every time - and we also have a bit of access to the big wide world, as we are always told where our guests have already been and what they have experienced. The kind of exchange we love so much.