Sustainable Agriculture meets Camping Travellers
Schau aufs Land is a digital guide that brings sustainable agricultural businesses and camping travellers together for short stays.
You can join too!
Free, uncomplicated & appreciative:
Whether farm, winery, brewery, beekeeping or gastronomy, we are on the lookout for sustainable businesses in Austriathat are willing to offer 1–3 simple pitches for campers on their property.
Free:
Your registry is 100% free for you.
Non-binding:
You can cancel your registration or pause your profile any time.
Flexible:
Manage & edit your profile and availability calendar (holiday) yourself.
A concept based on win-win...
We bring you many new customers for free to your business and your farm shop. In exchange you simply offer a very simple pitch for campers for one night. They show their gratitude with a purchase at the farm or with a supportive contribution to a freely selected farm project.
... and with a vision!
Regionality & sustainable agriculture with fair food prices is what we need. We want to create greater awarenessby connecting our Schau aufs Land travellers with sustainable agriculture and promote their interaction.
How it works:
Read our sustainability criteria through
As a farm, register for free and present your offers
Offer 1–3 simple pitches for free max. 24 h each for travellers (no camping infrastructure needed).
After activation you can welcome new, interested customers
And if you don't have any time or energy once, you can easily pause your profile and nobody will be able to contact you. This means there are no obligations or bureaucratic constraints for you.
Voices from our partner businesses:
Free: Your registry is 100% free for you.
Non-binding: You can cancel your registration or pause your profile any time.
Flexible: Manage & edit your profile and availability calendar (holiday) yourself.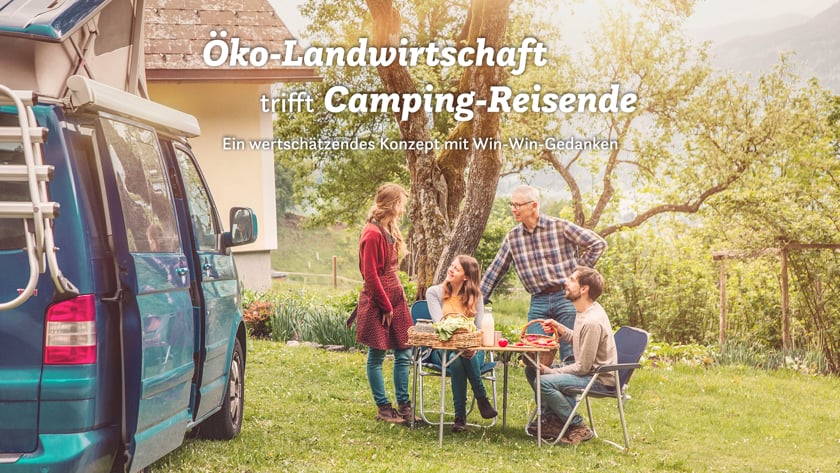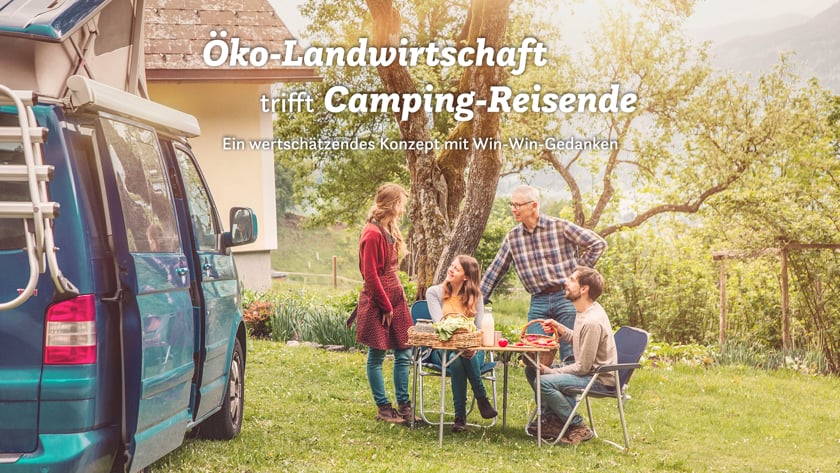 Present your farm & offers for free on our platform and reach our growing community of travellers.
Uncomplicated participation
No obligations or other bureaucratic constraints: a simple pitch – even without infrastructure – is enough. You make the rules and decide what fits for you.
Travellers are the new customers at your farm. Experience shows: They are happy to buy regional produce and to get to know the people behind it.
What does sustainability mean to us?
To us, sustainability means fit for our grandchildren.
And when thinking of a future for our grandchildren,we set the requirements for a participation at Schau aufs Land with the following criteria :
For agricultural businesses
No use of chemical-synthetic herbicides or fertilizers
If possible, a circular economy
Real animal welfare (according to EU organic directives)
Sustainability and considerate use of natural resources are a central part of the business
For businesses in hospitality
When buying foods offered, you care for organig, regional and seasonal production
Sustainability and considerate use of natural resources are a central part of the business
Voices from participating farmers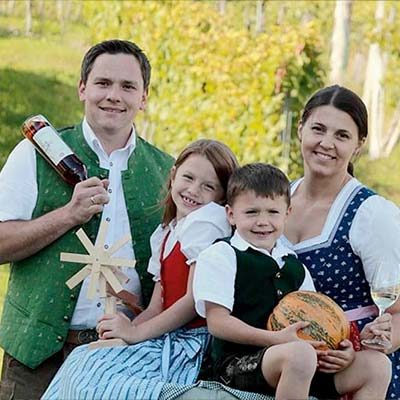 These are important features for a sustainable food supply. In doing so, we strongly believe that direct contact & exchange is one of the most effective ways to create more awareness.
Leonard, Karin & Christian
Founder of Schau aufs Land
Who operates Schau aufs Land?
Founded 2019 by Leonard, Karin and Christian from Graz, we are united as a team of now 7 members by the passion for nature, sustainability & travel with the camping bus. On the page About uswe introduce you to our entire team.
Schau aufs Land is for all of us a really heartfelt project, as it is always a great concern for us on the road to be so close to nature camp as possible, but at the same time to be familiar with the to give something back & the people on the ground to get to know.
The topics of sustainability, fairness & regionality are very important to us!
We are convinced: Regionality & sustainable agriculture with fair food prices is what we need in future . For this very purpose we want create more awareness, by using Schau aufs Land to bring more people back in contact with organic farming and bring the interaction.
We also look forward to visiting & getting to know the farms in person.
In conversation, you get insights into the everyday life & challenges of farmers.
Stefan Schwaighofer from the organic farm Ellersbacher is pleased to welcome travellers to the farm since June via Schau aufs Land.
© Peter Reiter Photography
A very simple spot, like this one at Gut Hinterlehen, is all you need to take part in Schau aufs Land.
© Thomas Hadinger
First and foremost, it is important to us that you attach importance to sustainable management. Apart from that, you don't need anything more than a natural site on your property for 1-3 motorhomes. A suitable infrastructure is not obligatory.
The entry is 100 % free of charge! There are no costs for you as a participating company.
No, you can have your entry deleted at any time. 
Yes, of course. As long as you enjoy hosting travellers at your place, you can always join us. You are also welcome to set up a donation/appreciation box. From experience, travellers are happy to have a way to show their appreciation for the free space.
The legal regulations for camping and parking of touring vehicles vary from federal state to federal state. In general, the legal framework for (nature) reserves and the following points must be observed:
The pitch offered must be on private land
Travellers may use the pitch offered for a maximum of 24 hours
No more than 10 persons (max. 3 pitches) are allowed to use the offered pitches at the same time.
The pitches are offered free of charge (free of charge, but in the spirit of appreciation)
This ensures that no campsite-like condition is created.
If you are unsure, you can always contact us or your municipality.
Firstly, because it should be as uncomplicated as possible for you! Since the places are offered free of charge, for a maximum of 24 hours and for no more than 10 people at a time, there are no bureaucratic or commercial requirements! An infrastructure is also not obligatory. A very simple pitch for a motorhome is therefore sufficient to welcome new customers via our network.
Secondly, the concept of Schauf aufs Land is based on appreciation. Travellers are encouraged to show their appreciation for the free parking space by making a purchase or a solidarity contribution. In this way, we want to encourage travellers to buy more directly from the farm. 
For services offered such as farm tours, access to toilet/shower, electricity, etc. you are welcome to charge a reasonable user fee or simply set up a donation box for voluntary donations. Experience shows that travellers are willing to pay/donate something for this. 
Preferably close to nature and easily accessible.
The substrate should be firm.
The surface should be relatively straight.
You can decide for yourself exactly where the site should be located - within the framework of the legal regulations. The most important thing is that you and the travellers do not feel disturbed by each other.
No, travellers know that you are a farm and not a campsite. Therefore, you are not obliged to offer a suitable infrastructure.
However, there are also many travellers who do not have their own toilet or shower on board. To offer them the possibility to use your pitches, you can offer the shared use of toilets and/or showers. In return, you can ask for a reasonable fee from the guests.
If possible, you can also offer electricity, water or Wi-Fi for a reasonable fee or a voluntary donation. The more you offer travellers, the more attractive your business will be to them.
In our Code of conduct We make it very clear to travellers that no rubbish of any kind is to be left on the pitch. It should be left at least as clean as before, if not cleaner.
If travellers will not abide by the rules, please feel free to communicate this to us so that we can follow up.
Travellers stay a maximum of 24 hours (usually one night).
1-3 places. That is entirely up to you.
For legal reasons, however, you may not provide more than 3 places (for a maximum of 10 people).
Only members of Schau aufs Land are allowed to use the spaces you provide. Therefore, all our members have a personal membership card. Travellers are obliged to carry the membership card with them at all times and you as host are required to check it.
Otherwise, you determine the rules for the travellers. You can find more details on this in the registration form.
Feedback & review from our partner companies
What were your motives for signing up for Schau aufs Land?
"We hardly get into the world from the farm, if at all. So we bring the world to the farm. In this way we have conversations, exchange thoughts with fellow human beings whom we would otherwise never meet! This exchange is so good because we feel that the visitors - Schau aufs Land guests - are really interested in agriculture!!! And their interest, their joy, brings motivation and happiness for the daily work."
- Reinhard, Organic Farm Greiml
"What better way to bring life to a farm than to welcome new campers again and again and perhaps make friends? In addition, our focus is on enjoyment and nature. That is a great combination with this camping concept.
- Michaela and Werner, Alpacas under the lime tree
"To introduce people to my small farm in an uncomplicated way. The uncomplicated possibility of showing that farming can also be sustainable and alternative. To "lure" travellers to an area that has a lot to offer, but which receives less attention in the face of travel hotspots."
- The weather house
What was your experience with the travellers so far?
 "Only good...Lovely people with openness & respect & gratitude. Such guests one wishes for ;-)"


- Markus, Aromareich

"Very good. We have already had many great people here, made new friends and acquaintances. It's always a great atmosphere when we have one or more campers on our farm. The people are all very warm, open-minded. We are always happy to please the travellers with a pitch with us."
- Meissnitzerhof
"Excellent. Lots of nice people who appreciate exactly what we offer!"
- St. Nicholas Organic Farm
"Our visitors were all very nice, interested and also made purchases right away in the farm shop. One couple even helped us with the potato harvest!"
- Gabriele and Reinhard Mendlig
"Again and again, images come to my mind of visitors who are interested in visiting the farm with me, who let me explain to them the development of the egg, from the chicken to the trade, who enthusiastically fetch vegetables from the garden for dinner, and who have nice conversations [...] And when, months later, they ask for a sheepskin from a lamb because their child has "fallen in love" with it, then we believe it is sustainable. Therefore, we say THANK YOU and look forward to the coming year!"
- Reinhard, Organic Farm Greiml
"Very good, totally nice guests, interested in the farm and the processes of production."
- Magdalena & Thomas, Organic Herb Shop Mathiasnhof
Our concept is based on appreciation, do you feel that this works well?
"Yes! Travellers are very interested in farming and often they chat for a few hours and like to show off their farms too."
- Barbara, Biograbnerhof
"I haven't felt such satisfaction from people in a long time. People's appreciation is certainly there."
- Manfred & Martina, WOLF Inn
"The appreciation is there in any case. Travellers are happy to buy the farm products on offer and always show their appreciation very generously with additional 'donations'."
- Meissnitzerhof
"The homemade products are very well received and appreciated!"
- Florian & Daniela, Loiblhof
"Very good. People are very grateful for our hospitality and often cooperative when the farm is busy. They also show their appreciation by buying our products. We have only had good experiences so far."
- Lampl family, Kräuterhof Lampl
Do you have the feeling that the travellers are interested in sustainable agriculture? Or that you can pass something on to the travellers?
 "Yes, we notice that again and again. So far, everyone who has been here has been very eager to learn about sustainable agriculture. It is very important to live with nature and to show that to the guests.
- Karl, Arztenbauerhof
"Yes, I even held a bread baking class verbally!"
- Barbara, Biograbnerhof
"Yes, it does! It's causing a change in many people's thinking."
- Lampl family, Kräuterhof Lampl
"Our guests are very interested in the history of the farm and of course in the future vision of our estate. The alpacas also always arouse the interest of the travellers. Especially with animal husbandry, we convey our sustainable concept, which is well received."
- Michaela and Werner, Alpacas under the lime tree
How much extra work does it take for you to receive travellers?
 "In principle, there is no real additional effort. Since we are always very happy to have new people on our farm, we would see it more as an enrichment to welcome travellers."


- Meissnitzerhof

"Actually no one. We are a big family and someone is always there. We find it totally beautiful and enjoy doing it!"
- Anonymous
"It is of course 'more' - but as hosts we are happy to do it. Since we also offer guest rooms it is even 'easier' with the campers ;-)"
- Markus, Aromareich