Turn old into new & climate-friendly!
An upcycled electric camper for hire:
Join us in converting the old & battered VW T3 Luise to the new & climate-friendly electric camper E-Luise to retrofit. In Austria, transport alone is responsible for about 50 % of CO₂ emissions. With the Project E-Luise we therefore want to show a way to travel by camper van that is as CO₂-neutral as possible.
Support our project on Startnext & get some cool goodies, a membership to Schau aufs Land or rent the charming E-Luise right away for your next holiday.
Unter allen Unterstützer:innen ab 15€ verlosen wir am Ende der Kampagne ein Wochenendtrip mit der E-Luise.
Buy membership for € 5 reduced:
Support the crowdfunding campaign with 35 € & get your Annual membership at a reduced price.
After the end of the campaign, you will receive the membership in the form of a voucher and can give it to your camping friends or redeem it yourself - once redeemed, the membership is valid for 365 days. Delivery will take place after the end of the crowdfunding campaign.
Concerns or critical questions?
You still have reservations about electromobility, don't know where the electricity is going to come from or are against it because of the mining of raw materials? Leonard addresses all these issues in our Electric camper FAQ on.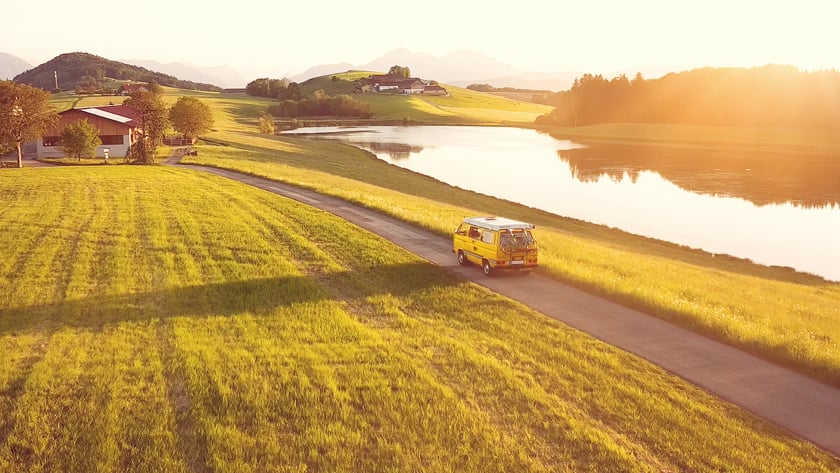 Why all this?
Travelling with a camper is pure freedom for us. We love being out in nature. But our motto is also: "Freedom with responsibility". Therefore, we want to work with the Project E-Luise show one way in which, in the future, we can more climate-friendly can be on the road.
Because the fact is, every form of mobility inevitably causes Climate stresses. However, the extent of this burden is changeable.
By using existing resources & upcycling we want to enable climate-friendly travel and show a sustainable approach for future camping travel.
"And with your help we can create a change!"